FEATURES
WHY WE LOVE IT
MODEL STATS
GARMENT CARE
FEATURES
Relaxed jumpsuit

Soft v-neckline

Adjustable straps

Side pockets
Wide leg

Cropped length
Soft, stretchy fabric
WHY WE LOVE IT
Comfort, versatility and style rolled into one! The styling options are endless for this relaxed, easy to wear jumpsuit. Wear all year round by layering with a tee or long sleeve top, adding a cropped jacket or throwing on a belt and heels to dress it up.
MODEL STATS
Sarah is 170cm and wears a size 24.
GARMENT CARE
Material - 95% Rayon, 5% Spandex
Care - Cold hand wash
Customer Reviews
01/20/2021
Manuela F.

Australia
love them easy to wear and
love them easy to wear and very comfy
12/19/2020
Erin

Australia
I could live in these
Ordered and items were delivered within the week, fantastic customer service. The jumpsuit is super soft and comfortable and being 7 months pregnant they are just perfect for lounging about. Will definitely be getting other colours when they are back in stock
12/04/2020
Sarah M.

Australia
Love the fit
Love the fit and comfort of this! I wish the straps were black though. But in love and can't wait for more Peach the Label items to jump into my closet!
12/04/2020
Kelly C.

Australia
Buy it x
This is so damn comfy & not figure hugging at all which I love x
11/10/2020
Leonie W.

Australia
OMG SO GOOD
I am a size 26, purchased the jumpsuite, Not something i would normally wear, but thought at the great price, no problem is they did not look good, i could wear as Dress up PJS lol. They fitted fantastic, and i feel amazing for an old girl of 65 yrs. I also loved the quality of the grey TShirt. Thankyou so much for an incredible quick delivery. Regards Leonie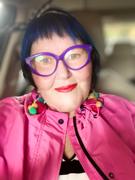 11/09/2020
Fee H.

Australia
Awesome jumpsuit!!
Love love love everything about the jumpsuits!! I have one in every colour now because I just purchased the blue one too!! Gotta be fast!!! They go too quickly!!!
11/04/2020
Renae B.

Australia
Olive bonnie jumpsuit
Love this jumpsuit it is so comfy
11/03/2020
Rebecca H.

Australia
Adore it!
I was a little unsure when ordering the Bonnie jumpsuit - wondered if it would fit, and if it did fit if it wouldn't look nice. I was absolutely pleasantly surprised to find out the fit was AMAZING, comfy and at the same time incredibly flattering. I've since ordered it in 2 other colours because I love it so much!
11/03/2020
Danielle B.

Australia
LOVE IT
Was perfect to wear to see a band in the sun but kept me warm when the afternoon breeze hit! flattering, fit was perfect and great quality!
11/03/2020
Kelly W.

Australia
Love love love it!!! Have the black and just ordered the spotted one. Comfiest and trendiest thing I own.
11/03/2020
Kelly W.

Australia
Love love love it!!! Have the black and just ordered the spotted one. Comfiest and trendiest thing I own.
10/20/2020
Elisabeth T.

Australia
AMAZING
My only regret is not getting 2 of these! it is my first ever jumpsuit, being plus size comes with its own anxieties, especially when trying to wear something youve never worn before. This.Is.Amazing. comfortable, flattering, and great quality. Love it. THANK YOU!
10/20/2020
Allison J.

Australia
Bonnie Jump Suit
Absolutely love it! Very flattering and so versatile! Would love to see it in other colours.
10/19/2020
Shanel L.

Australia
Amazing!!!
I have been wary of jumpsuits in the past and worried about the things riding up or not fitting, especially in the crotch. My jumpsuit arrived, perfect fit. Soft, stretchy material. Fast delivery. I can see this becoming one of my first stops when I'm on the hunt for new clothes. Thank you.
10/19/2020
Jema B.

Australia
Perfect to jump into!
Absolutely love the jumpsuit - such a good fit and easy to get in and out of. Hides all your lumps and bumps too! Great for any season - pairs well with a long sleeve jumper or could work for the beach.
10/18/2020
Christie H.

Australia
Love it!
Absolutely love this jumpsuit! I love the fact it has elastic straps and how flowy it is. Doesn't cling to me at all and I feel so comfortable in it. Thank you